Pilar Baumann Romero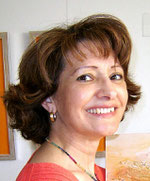 Born 1952 in Albacete (Spain) .At the age of 10  she moved with her family to Switzerland.   
She visited the school of art of GERDA PÌSO in Lucerne (Switzerland) for 4 years.  
Later she continued her studies in Zurich, Winterthur and Bern. She attended classes by KOLLER (Germany),   KRAYEM (Vienna), KIRCHHOFER (Switzerland), EKKEHARD (Germany), ROHRBACH (Switzerland) and by professor SARGANT (Bregenz, Austria).
In the master classes of the professors KRAYEM and SARGANT she learned new techniques of modern painting. Currently she is concerned with the development and application of techniques such as quartz of the Swiss Alps,
natural pigments, gold, Chinese ink an other natural elements.
Her Paintings can be seen in exhibitions aand private collections aat home and abroad. 
Since 2002 she lives with her husband in Cunit (Tarragona, Spain) where she has a permanent exhibition and where she arranges courses and workshops in her studio.
SShe is member of the international artist group "GRUPO DE ARTE CONTEMPORÁNEO ENTROPÍA".
http://grupoentropia.wordpress.com/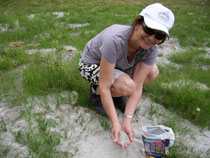 Quarz sand at the Göscheneralp (Switzerland)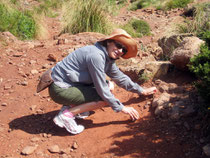 Pigments at Menorca (Spain)